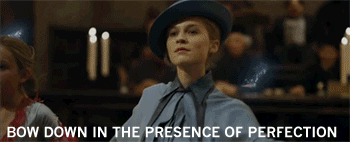 Often times in the genre of Young Adult, I feel as if the main character is put on a pedestal of sorts. By this I mean the main character is lifted far up and beyond the other characters in the story and is seen as more powerful/knowledgeable/simply better than everybody else. Sometimes it seems as if the main character is even condescending or judgmental at times because she is put on such a high pedestal. I feel as if this occurs in a multitude of ways, all of which I find to be of annoyance to me but one way is certainly more problematic.
The first technique I have seen several times in YA to make the main character just seem utterly amazing and borderline perfect is the "special snowflake" trope. This one isn't a new idea and seems to occur most often in the YA paranormal and fantasy novels. Pretty much the main character makes discoveries about the supernatural world, is the true heir to the throne etc etc. Then we discover the main character has special abilities or perhaps there is a prophecy..AND THE MAIN CHARACTER IS THE ONLY ONE WHO CAN SAVE THE WORLD FROM RUIN. Naturally the main character will become ultra amazing at her power right away with little training. From there on out nearly every character who crosses the MC will love her and if not they're totally evil. Despite impossible circumstances the main character will always prosper.
While the aforementioned method is irritating, a tired trope and has been done about a thousand times it's not particularly offensive or hateful. I find other methods of promoting the main character much worse, just because they usually involve the degradation and tearing down of the side characters in order make the MC appear even more "appealing".
An example of this would be an YA novel where the main character has a best friend/sister/acquaintance who is a little bit more sexually promiscuous than the main character. Honestly, I'm fine with this being included as I don't expect us all to be sexual in the same way or at all. However, what I'm not fine with is it being included, having MC point it out so frequently and then points out her own innocence right after or judges the side character for her sexual experience. This infuriates me as it plays into the societal ideal that sex = taboo/bad, therefore the main character is much more angelic and "good" than her sexually active side character. When this technique is used it also makes it seem like the side character's only purpose is to solely exist so the main character appears more "wholesome" and appealing to the reader which frustrates me to no end. Not only is it slut shaming, but it also promotes unhealthy female friendships.
Another example of an side character whose entire existence is usually torn down is the quintessential mean girl. Not only is the mean girl often slut shamed/judged by the main character (see the above paragraph for more on that) but it also appears that this side character is often never developed in any shape or form. The mean girl is just mean for the sake of being mean it seems (which is also very unrealistic). While I don't justify bullying in any way, by not developing the mean girl beyond the stereotypical trope it honestly just seems like she's being included just so she can victimize the MC and evoke the reader's sympathy. It not only demonizes the mean girl but also dehumanizes her by making her once again, nothing more that a character to increase the MC's appeal.
It's truly unnecessary (and sometimes even problematic) for the main characters to be put on such a high pedestal, especially since it's usually done in at the expense of the side characters. I think it's a very juvenile and narrow minded perspective that the main characters must be "perfect" or appear "better" than every other character in a novel. I personally prefer the main characters in novels to be flawed and to be not constantly reminded about how much better she/he is than everybody else. I also enjoy reading about side characters and believe they deserve way more development and credit than just being a tool to further enhance the main character.